Teacher: Laila Sell
Venue: Tigmi Alyom, Essaouira, Morocco
Overview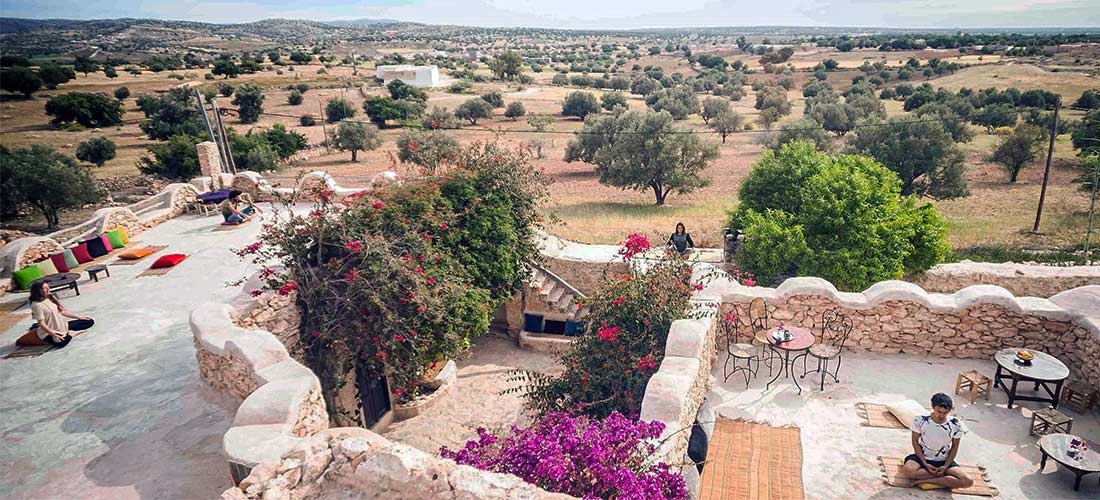 This somatic yoga teacher training is a deep journey into the living process of fuller embodiment. The course is spaciously divided into two full immersion modules of 14 days each with seven months in-between to practically apply the learnings and have the time for integration and assimilation of the content. The purpose is to make a real shift in your understanding and experience of the yogic path traditionally and how it applies to the modern body and times. There will be homework, exercises, reading and online continuing support in-between the modules. You will receive useful maps and tools to help you navigate and explore how to return to your inner wholeness through the regular practice of yoga in a way that provides safety and efficiency as well as developing movement patterns that are much more natural and functional in our day to day life. This training is designed to offer a nourishing learning environment that encourages sharing, creativity and autonomy in the expression of your unique yoga and coming home to the body in a way that is both enjoyable and sustainable.
Who is this training suitable for?
If you are already practicing regularly, and would like to take a step further towards deepening your embodied understanding of yoga continuing to develop your personal growth and journey.
Maybe you are interested in the possibilities of teaching yoga, and it has been on your mind since a while to gain more knowledge and experience about this path and you feel it is time for you to take a step in this direction now.
You have already done a yoga teacher training and would like to complement your skills and be further inspired and informed by the unique content of this much more somatic course and approach to yoga.
Laila Sell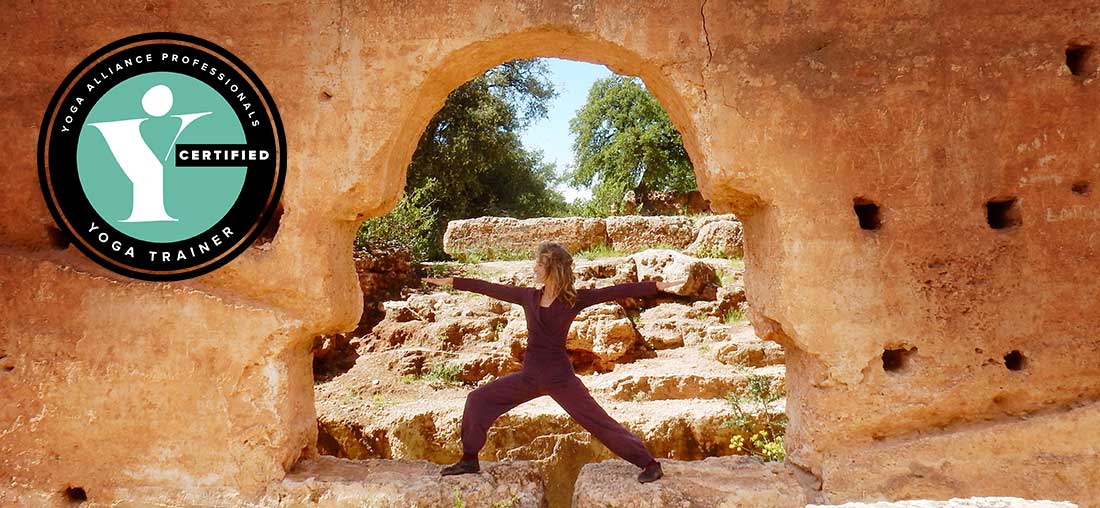 Laila discovered yoga in 1998 and has been teaching full time since 2006. After many years of living in India and being in a deep process of exploring and training in various styles, she eventually developed her own unique holistic approach. After having suffered and struggled for years with physical pains and yoga related injuries she had a complete shift and breakthrough in her understanding of movement through the groundbreaking work of Hanna Thomas Somatics. Through those gentle movements she realised how to effectively re-educate and re-train the brain to release accumulated tensions and create neurological pathways which enhance ease, fluidity and freedom. This led her then to integrate those same principles and apply them to her yoga classes, crafting movement flows that are gentle, round, natural and originating from the centre of the body. She also extensively studied Chinese shaolin arts and Qi gong. An influence that she gracefully fuses into her meditative yoga-flow classes. For Laila being in a state of yoga is all about the relaxation within the action, meaning finding ease, comfort and harmony within the movements, so that the nervous system can be self-regulated and balanced, the breathing can be restful, calm and effortless and that the mind can drop into a place of peace. Then the body and the practice of yoga are the doorway to a more spacious and deeper connection to ourselves and the world around us.
Colm McDonnell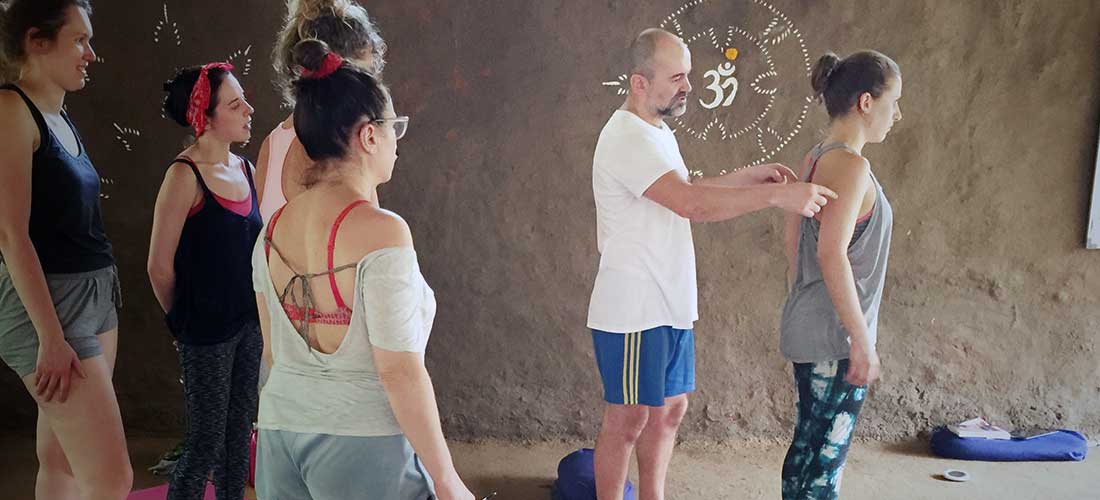 Colm is a certified Clinical Somatic Educator and a Somatics Movement Coach, a graduate of Martha Pererson's CSE Professional Training (Essential Somatics). A qualified Sports Injury Therapist and Massage Therapist, he discovered Hanna Somatic Movement in 2010 and has been exploring and teaching this powerful movement practice ever since.
Colm operates a private Clinical Somatics Practice in Dublin, Ireland working with clients from all walks of life. Here he uses Somatics Education to teach them how they can become pain free, improve their performance and move more fluidly, freely and intelligently.
He is excited to join with Laila, and to share Somatics with the next generation of Yoga teachers. Somatic Education provides a simple, common sense framework you can use to guide your students to a deeper, more fully embodied understanding of themselves and their Yoga practice.
What you will learn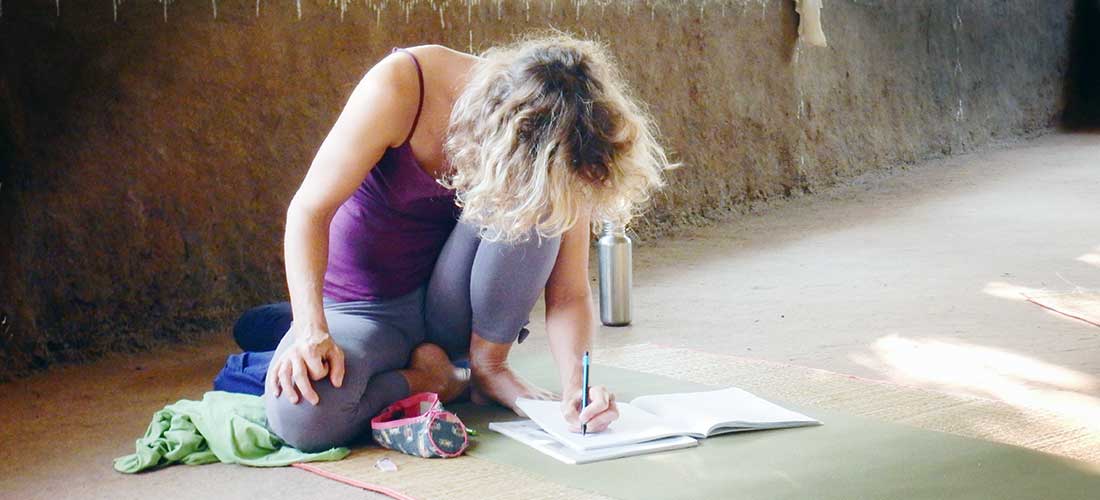 Creative somatic yoga sequencing that skilfully connects body, breath and mind.
Enhancing communication skills.
To observe, listen, sense, feel and connect to yourself and others more fully and how to facilitate such awareness and inquiry tools in a yoga class setting.
How postural habit patterns stored in the brain affect our yoga experience and ways to effectively release tensions and re-train the brain to re-gain more control and freedom at the same time.
Foundations of basic anatomy & physiology that keeps the yoga practice sensible, safe, sustainable and enjoyable.
Developing the resilience to adapt and modify the practice depending on the person, the moment, the context, the circumstance of the situation that is presenting.
Exploring and integration of universal body languages such as grounding, exploring the three-dimensional space, natural full body movement, spirals, fluidity and ease.
Find your direction in what really serves you in your own practice and how you can teach from your own experience and share your unique voice and gifts authentically.
How the ancient teaching and philosophy of yoga can be understood, translated and applied to our modern lives now.
Have an inspiring yogic experience and full immersion into this way of living that you will carry into your life.
Pre-requisites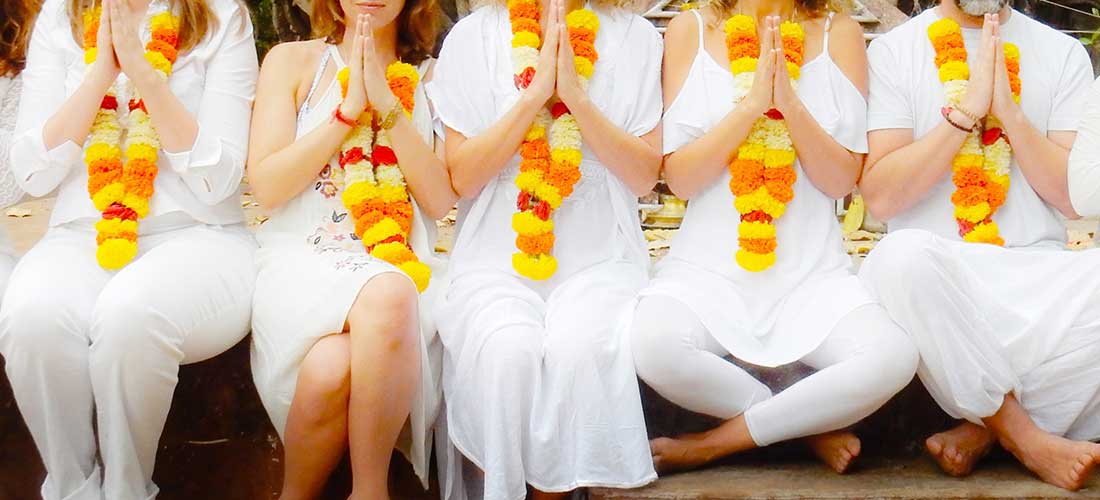 A regular yoga practice since at least 2 years is required to be accepted on this training.
An open mind. You will go through some serious reprogramming of how to "do" yoga. To keep remembering in the beginners mind there are many possibilities, but in the experts there are few!
For the laboratory nature of this training an explorative character is important. If you are enjoying discovering new places in your own body and mind and have the curiosity to try things out then this training is a right fit for you.
The willingness to be inclusive, mindful and respectful of each other. The course will require you to participate in group communication, sharing, partner work and learning to give each other feedback which is all part of this training.
Being prepared to make time for self-practice, reading, homework and independent learning styles for integration before, during the modules and in between.
To be physically fit enough to attend the classes. If you have a particular injury or physical challenge please discuss with Laila further about the possibility of attending the training.
Transformations and growth can, at times, be intense and you need to be willing to take this inner journey, so that you may receive from this training a life changing experience that will help you make the practice of yoga part of your everyday life where the true practice begins.
Program outline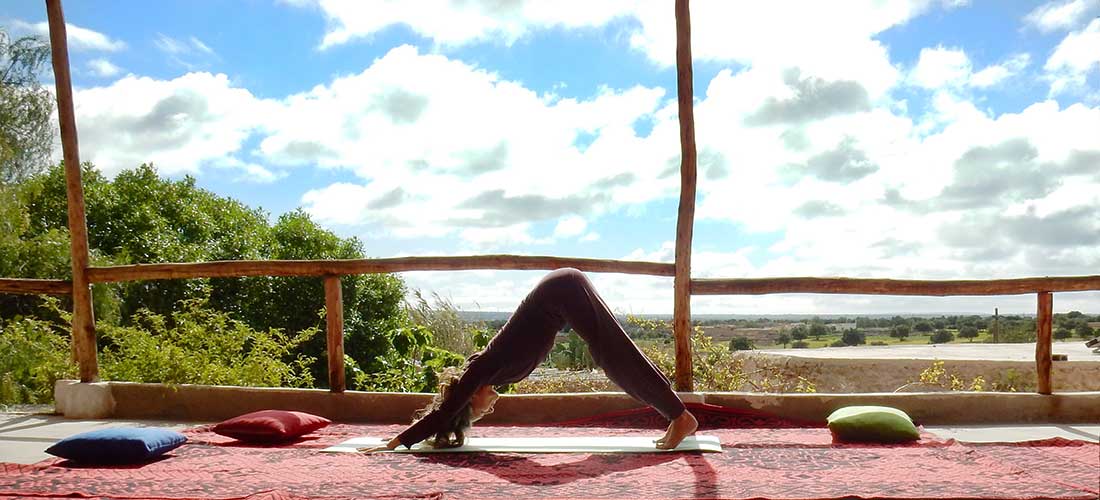 TECHNIQUES TRAINING AND PRACTICE – 100 HOURS
TEACHING METHODOLOGY – 30 HOURS
ANATHOMY AND PHYSIOLOGY- 20 HOURS
YOGA PHILOSOPHY, LIFESTYLE, ETHICS – 30 HOURS
PRACTICUM – 20 HOURS
Sample Daily Timetable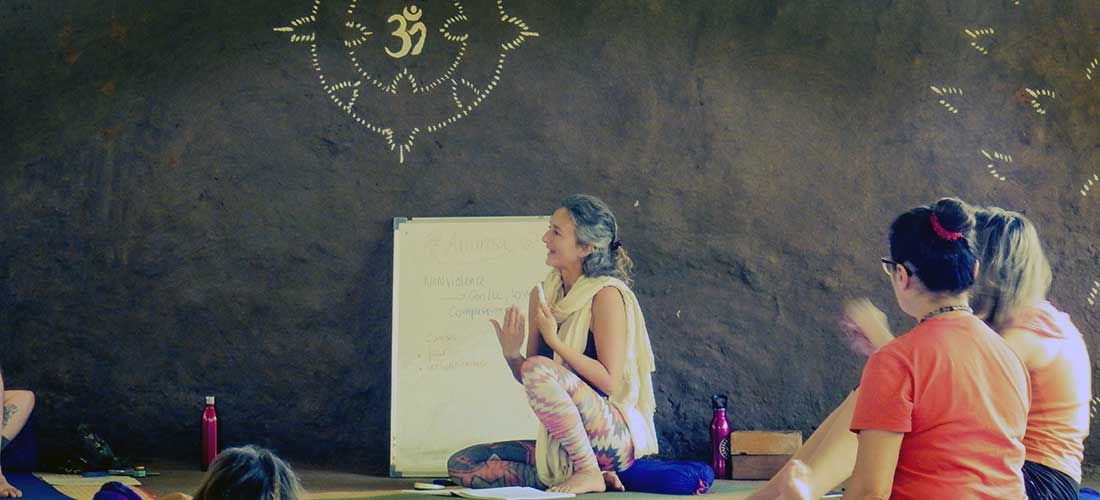 6:30 -7:00 Meditation***
7:00- 9:00  Morning yoga
9:00-10:00  Breakfast
10:30-13:00  Yoga philosophy, Anatomy & physiology
13:00–14:00  Lunch
14:00-15:00  Break
15:00-18:30  Yoga laboratory and Somatic Movement
19:00  Dinner
20:00–21:30  on some days evening program with, chanting, sharing circle,meditation, or free time.
*** Note: this is just a sample schedule and may be subject to change. Some days we will observe silence till after breakfast. Saturdays are free
The Venue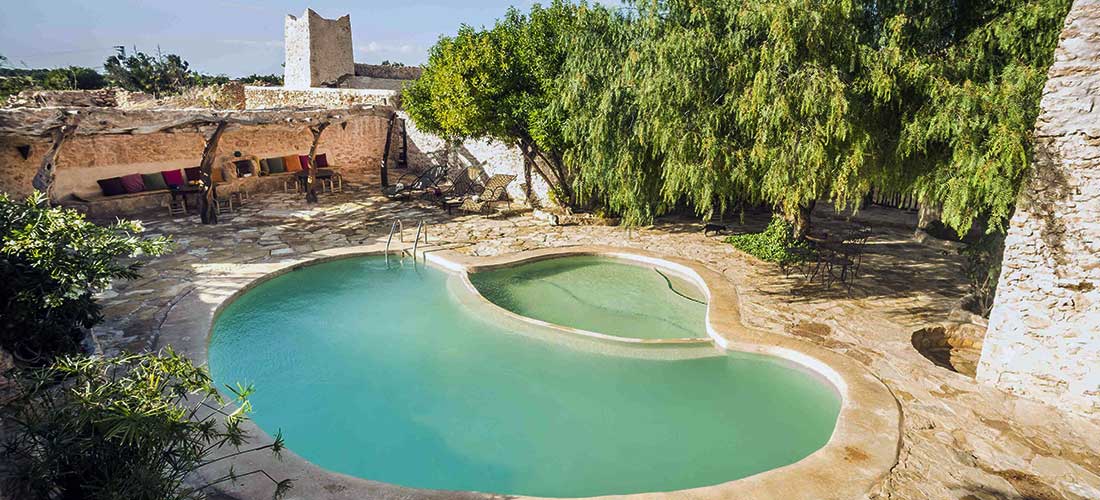 Tigmi Alyom is a magical little retreat place in southern Morocco. It is located in the countryside, 30min. from Essaouira by the Atlantic ocean. This traditional berber style housing is surrounded by beautiful and inspiring nature, far away from the tourist track and much closer to the authenticity of rural life. The venue offers various places for the practice on the sheltered terraces or in the meditation hall and is located right in the heart of nature surrounded by fields of magnificent Argan and olive trees. It's a privileged location to be in for its tranquillity which offers many beautiful walks in the surrounding gentle hills, villages and creeks. Tigmi Alyom quite naturally invites to be in touch with nature and makings space to be truly available for yourselves. The silence and simplicity found here are so helpful in creating the inner space for establishing nurturing self-care and habits conducive to a healthier lifestyle. It is a generous place for all those who are in search, who feel the call to be in communion with nature and finding more deepening their practice.
Accomodation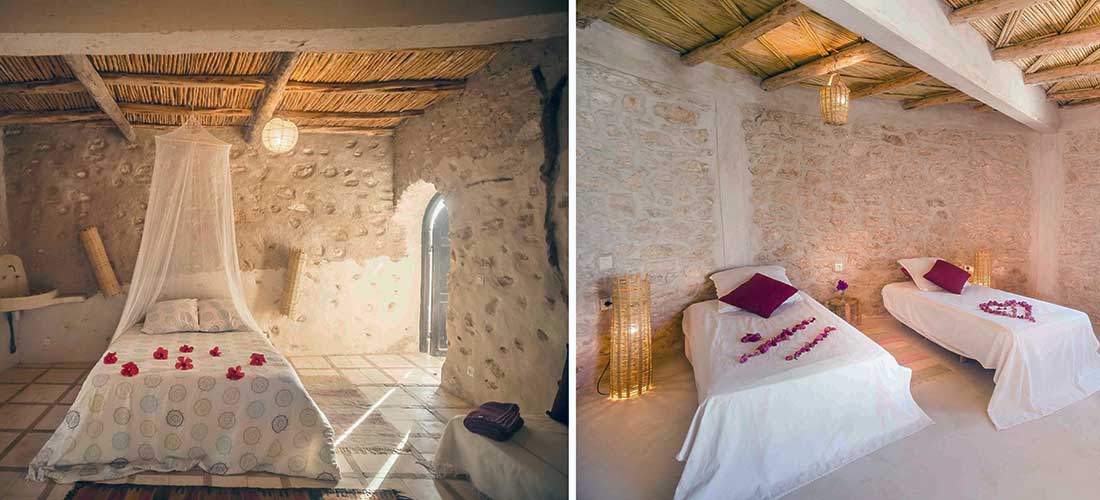 The place invites to slow down and taste a way of living that is in touch with the beauty, energy and simplicity of the 5 elements. The alcove stone building offers cosy rooms that feel naturally grounding and connecting to the earth. Hospitality is a big part of the Moroccan culture, here the atmosphere is relaxed and really family-like and all about you feeling at home. Omar and the rest of the friendly staff will make you a warm welcome, looking after you during your stay and prepare delicious and nourishing vegetarian home cooked meals, served in a buffet style 3 times a day. There are plenty of little places to rest or study during the day and get some sunshine, listen to the birds and integrate. Between the several terraces, the practice and mediation room and of course the swimming pool make Tigmi Al Yom an ideal place for this course and training. At night you can enjoy the thousands of stars light up the sky.
How to get there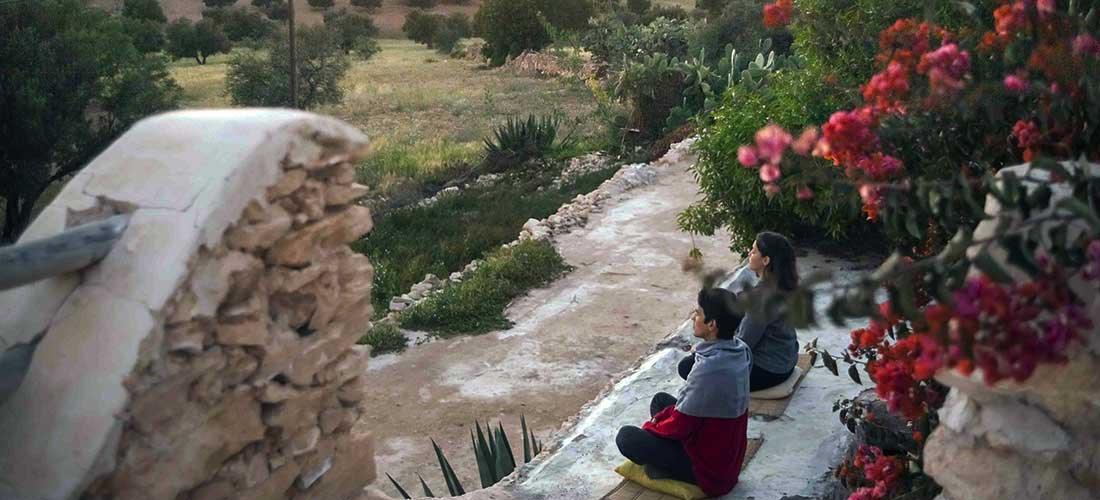 There are direct flights from London to Essaouira with Easyjet. The airport is 25 min from the venue. Alternatively you could fly into Marrakech and take a bus or taxi transfer to Essaouira.
Private Pick up from and to the airport can be arranged with an additional cost and shared if possible.
150 MAD from Essaouira 1-3 people (one way) and 200 MAD 4-8 people
600 MAD from Marrakech, 1-3 people (one way) and 800 MAD 4-8 people
Price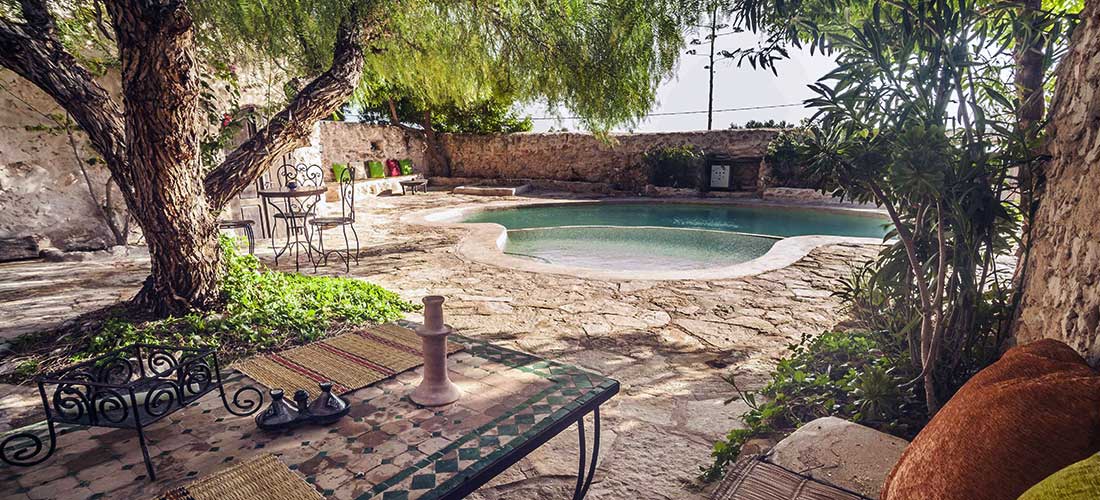 Early bird price till 14th February 2019:
2990 € (triple shared) 3120€ (twin shared), 3520€ (single room)
Normal price from The 14th February 2019:
3380 € (triple shared) 3520€ (twin shared), 3920€ (single room)
(Includes yoga tuition + 3 meals a day + accommodation).
Payment plan possible.
Reservation

Deposit of €800 to hold your space*.
*
 Please note that the above amount is non-refundable in any case of cancellation.
* The remaining balance is to be paid via bank transfer by the 14th of June 2019.
Training price includes
200 h yoga training (total of 192 contact hours)
Training Manuals and use of equipment
28 night accommodation at Tigmi Al Yom
3 meals a day at the venue during the training
Online support in between modules
Not included in the training price:
Flights, Travel insurance, and transfers from and to the airport, cost of the books for pre-homework, any extras such as massages, usage of the hammam, drinks and additional food outside meal times.
Please note that this training will take place only if the minimum required number of 8 participants is reached. The maximum participant number is 12 people for this training.
Apply now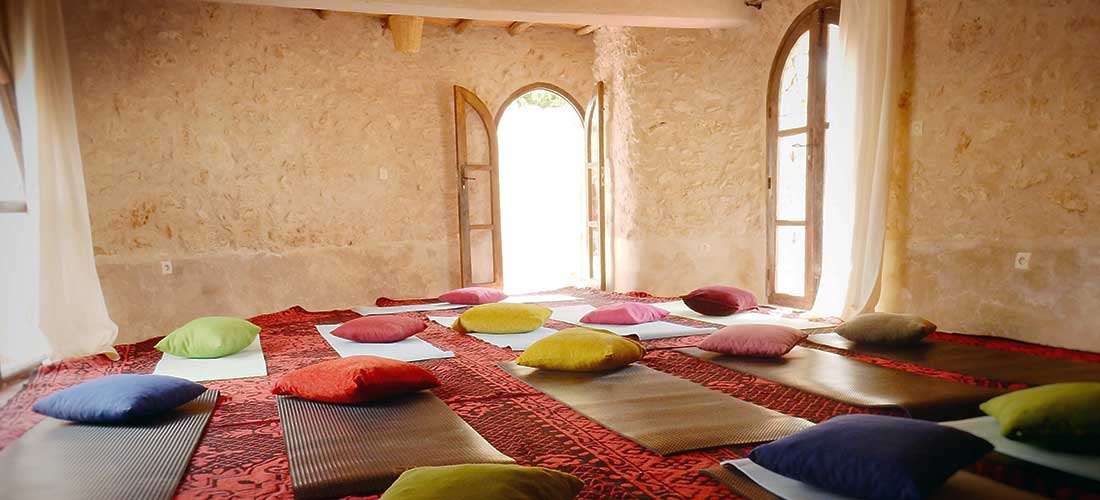 Step 1: Fill in your details in the form below.
Step 2: Each application is read in detail and applicants judged individually. Successful applicants will receive confirmation of a place on the training.
Step 3: Pay the non-refundable deposit of 800 € to secure your place.
Step 4: The balance of the course fee is due by the 14th of June 2019.